SEOUL CITY TOUR GUIDE
1. About the Seoul City Tour Bus
The Seoul City Tour Bus provides organized shuttle tours to the city's most popular attractions. For the price of just a single ticket, you can spend all day hopping on and hopping off the bus* as it follows a circular route connecting Seoul's top sightseeing destinations. For first-time visitors, there is no better way to discover the city.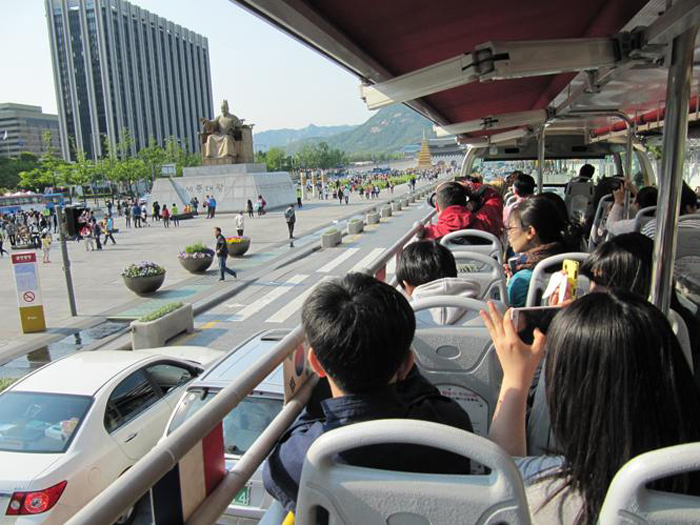 The company offers audio guides of Seoul in 11 different languages. At first, the audio guide was only available in Korean, English, Japanese and Chinese. Service has since expanded to include French, German, Russian, Spanish, Thai, Vietnamese, Indonesian, and Malaysian. The Seoul City Tour Bus company is currently working on adding more languages for the convenience of visitors and Italian, Arabic, Hindi, and Portuguese will be available in the future.
*Night Courses run without stops.
2. Downtown Palace Namsan Course
This 22-stop course takes you past not only Seoul's historic royal palaces, but also to popular tourist destinations such as Namsan Seoul Tower, Myeong-dong, Itaewon, Namdaemun Market and the National Museum of Korea.
3. Panorama Course
Get some sweeping views of Seoul from this 14-stop tour that takes you to Namsan, Cheonggyecheon Stream, the Hangang River and other scenic spots.
4. Night Course
Spend a romantic evening cruising around the city. This course lets you enjoy Seoul's electrifying nighttime vistas, both from above (Namsan Seoul Tower) and below (along the Hangang River).
5. Around Gangnam Course
Enjoy the sights of Gangnam riding a comfortable trolley bus. This course will take you to all the major sites and attractions like Seonjeongneung Royal Tomb, COEX, Lotte World Tower, Sebitseom Island, Seorae Village…
5.2. Double Decker Bus
※The Seoul City Tour Bus is a transportation service popular among tourists for their upgraded buses and tour routes to Seoul's major attractions.
6. Runs and Departures
Tiger Bus

Seoul City Courses

Downtown

Palace
Namsan

Course

Panorama

Course

Night Course

Around

Gangnam

Course

Departure

Dongwha Duty Free Shop (Subway Gwanghwamun Stn., Line 5, Exit 6)

Ticket Box 200 m from Gangnam Station (Line 2) Exit 11

Hours of

Operation

9:00~17:30 (weekday) /
17:45 (Sat/holidays)

09:00~17:10

19:30

(20:00 July~Sept)

10:10~17:00

Frequency

Every 30 min.

Every hour

Once daily

Every hour

Holidays

Mondays (4th Week of July – Aug. 15th)


※ Buses run on Mondays if it's a holiday falls on a Monday.

※ Buses run everyday during the summer peak season
※ Starting April 1, 2013, transfer between the Seoul Panorama Course and the Gangnam Course will be possible.
​
Yellow Balloon


City Bus

Traditional

Culture


Course

Hangang / Jamsil
Course
Night View
Course

Departure

Dongdaemun Design Plaza (DDP) , front of Art Hall (A3)

Hours of

Operation

9:30~18:30 (last bus at 17:10)

14:00 ~ 19:00 (last bus at 17:00)

20:00

Frequency

every 40 min.

every 30 min.

Once daily

Holidays

None

Only runs on Saturdays

Operate Jul – Sept
7. Cost and Further Information
Tiger Bus

Seoul City Tour Courses

Downtown

Palace
Namsan

Course

Panorama

Course

Night Course

Around Gangnam Course

Adult

18,000 won

18,000 won

15,000 won

15,000 won

High School

Students and Younger

12,000 won

12,000 won

9,000 won

12,000 won

Ticket Booth

Gwanghwamun Koreana Hotel Ticket Booth, Seoul Station, Yongsan Station, Bus Driver

Gangnam Station Exit 11 Ticket Booth, Bus Driver

Phone Inquiries

+82-2-777-6090

Website

www.seoulcitybus.com
Yellow Balloon


City Bus

Traditional

Culture Course

Hangang / Jamsil
Course
Night View
Course

Adult

15,000 won

15,000 won

12,000 won

High School

Students
and

Younger

10,000 won

10,000 won

8,000 won

Ticket Booth

Dongdaemun Design Plaza (DDP) Ticket Booth, Sejong Center, Other Bus Stops

DDP Ticket Booth

Phone Inquiries

+82-2-1544-4239

Website

https://www.seoulcitytourbus.co.kr/en/
by Visit Seoul