NAGOYA – JAPAN
Nagoya is located at the center of Honshu (the main island of Japan) with a population of 2.24 million. Nagoya has a long history and is the birthplace of three notable feudal lords, Oda Nobunaga, Toyotomi Hideyoshi and Tokugawa Ieyasu. Traditional industries like ceramics and textiles as well as key modern industries like automobiles, aviation and machine tools have also developed in Nagoya, and Nagoya plays an important role in Japan's industrial society.
Today, Nagoya continues to draw attention and keeps on developing as a Japanese international city.
1. Location and Transportation
Nagoya is located at the center of Japan, you can quickly and easily reach Nagoya by air or rail.
Nagoya is situated in the very center of Japan, serving as a terminal for public transportation services. Whether enjoying travel in Central Japan or in the Hokuriku region, Nagoya is incredibly convenient as a gateway. Via the Shinkansen bullet train, Kyoto is about 35 minutes away, Osaka about 55 minutes and Tokyo about 100 minutes. Getting to anywhere in Japan is easy from Nagoya.
2. Special Wide – Area Train Pass



JAPAN RAIL PASS : These tickets are an economical way for travelers to explore Japan. They are only sold outside Japan and can be used to ride the Shinkansen bullet train (excluding the Nozomi trains) and regular JR lines. (Unlimited rides)
KINTETSU RAIL PASS : These tickets are convenient for riding Kintetsu, a railway that goes from Nagoya to Kyoto, Nara, Osaka, or Ise-Shima within about 2 hours 30 minutes. These are generally only sold outside Japan and can also be used to ride limited express trains. (Unlimited rides)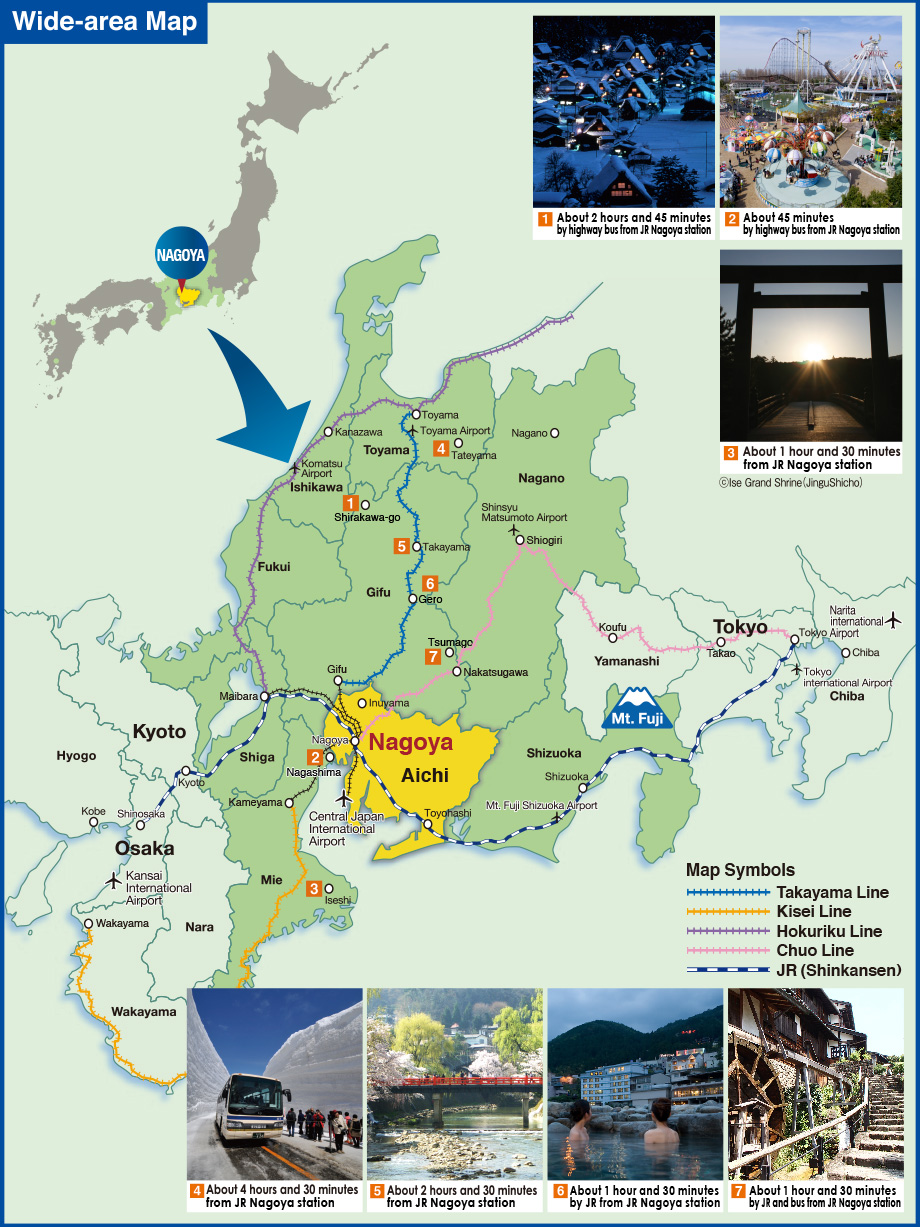 3. An important role and a long history
Nagoya has a long history dating back 1900 years, when Atsuta Jingu, which has a close relationship with the legendary people who appear in Kojiki (the oldest history book of Japan), was established. Nagoya is especially defined by its history after the establishment of Nagoya Castle. After a prolonged period of war, Tokugawa Ieyasu was victorious at the Battle of Sekigahara in 1600. That event marked the start of the Edo period, which lasted for 300 years. Ieyasu, who became the first Shogun (military ruler of Japan), built Nagoya Castle and moved the whole town of Kiyosu, the main city of the region until that point, to Nagoya.
This move was called the "Kiyosu-goe" and occurred in 1614. Following that, the first lord of Nagoya Castle, Tokugawa Yoshinao, improved the infrastructure of Nagoya as a castle city, which contributed to the prosperity of the Owari Tokugawa family. During the rule of the seventh lord, Muneharu, culture, including Noh, Kyogen and tea ceremony, blossomed. Examples of this cultural development, along with items ranging from crafts to books that illustrate the development of Nagoya and the prosperity of the Owari Tokugawa family, are preserved and exhibited at Tokugawa Art Museum.
4. Approaches to nature and the environment
Verdant parks, including Higashiyama Park, which contains a sprawling zoo and botanical gardens, dot Nagoya from the northwest to southwest. Fujimae Tidal Flat, a globally important layover for migratory birds located near the Port of Nagoya, was registered under the Ramsar Convention in November 2002. In addition, Nagoya has taken up the philosophies promoted by Expo 2005 Aichi Japan, which was held from March to September 2005, and continues environmental preservation activities with the goal of becoming "Eco-Capital Nagoya."
5. Cuisine that combines Eastern and Western (the specialties)
Akamiso (reddish-brown fermented bean paste) is a food ingredient peculiar to Nagoya and its environs. Although its appearance is not appetizing, it is an ingredient with a unique flavor that can be used in preparing a wide variety of dishes. The representative examples are miso-nikomi-udon (Nagoya-style udon served hot in a pot with miso soup) and miso-katsu (fried pork cutlets with rich red miso sauce). People can savor different flavors from those of Tokyo or Osaka and enjoy combinations of ingredients or ways of cooking peculiar to Nagoya. The unique cuisine of Nagoya is closely watched.
6. A beautiful city with history and modernity in harmony
The City of Nagoya held the World Design Expo in 1989, and that experience led Nagoya to further emphasize its aesthetic appearance as well as city infrastructure. The City of Nagoya is trying to become a safe and convenient city while practicing innovation in design that beautifies the whole city and allows its citizens to live comfortably.
For example, night illumination not only makes the city attractive but reduces crime. In 2002, Oasis 21 was established in Sakae, one of the busiest areas in Nagoya. It combines parks, public facilities such as a bus terminal, and commercial facilities. Preservation of historical townscapes, including those of Arimatsu and Shikemichi, is emphasized. In Nagoya, urban design with a historical appearance and modern infrastructure is being pursued.
7. What to See
Taking the subway or the Me~guru bus (sightseeing route bus) makes getting around Nagoya easy and provides access to most tourist facilities. Almost all tourist attractions around the outskirts of Nagoya are also easy to reach by train or bus, even for individual travelers.
8. Atsuta Shrine
The Atsuta Shrine is home to the "Kusanagi-no-Tsurugi(a sword)", which is one of the Three Sacred Imperial Treasures. This is the 2nd largest shrine after Ise Shrine in Mie Prefecture, and about 6.5 million people visit there annually. There you can find Nobunaga walls which was made by Shogun Nobunaga Oda in 1560. He prayed for victory of the war here and in return of his winning, he donated the wall. Nijugocho-Bashi Bridge, made with 25 stone plates as its name describes – is the oldest stone bridge in Nagoya.
At the Treasure Hall, the Atsuta Jingu Museum houses about 4,000 articles donated by the people ranging widely in class from the Imperial Family, shoguns (generalissimo) and feudal lords to common persons. Among these materials, especially important are the Koshinpoh (sacred garments, furniture and utensils for use of the enshrined deities), the swords, the hang mirrors, the Bugaku (ancient court dance) masks, the ancient documents and the household articles, 174 items of which have been designated or Aichi Prefecture important cultural assets.
These treasures are exhibited by turns in the Hall for showing to the public. The articles on display are exchanged every month. They help you appreciate the deep faith people have had in the shrine as well as its long history.
Area

Osu / Kanayama / Atsuta

Address

1-1-1 Jingu, Atsuta-ku, Nagoya

Accsess Method

Subway Meijo-Line "Jingu-Nishi" sta.




Meitetsu "Jingu-Mae" sta.

Opening Hours

The Treasure Hall: 9:00AM – 4:30PM (Entrance close at 4:10PM), Shrine is open for 24 hours to pray

Closed

Open year round (Shrine)




Final Wednesday and following day of each month / December 25 – 31 (Treasure Exhibition Hall)

Fares

Adults: 300yen (The Treasure Hall)

Parking

Parking lot for 400 regular cars




Parking lot for 7 buses
9. Nagoya Castle
In 1610, Ieyasu Tokugawa began construction of Nagoya Castle as a castle residence for his son Yoshinao. It was lost to flames during WWII, but the large donjon (approx. 48 m) with golden "shachi" ornaments adorning its roof and the small donjon (approx. 24 m) were rebuilt in 1959. In the large, five-story donjon, sliding door murals which are an important cultural property and historical information are displayed; and on the third to fifth floors, you can see a full-scale replica of a golden shachi ornament, experience the pulling of stones used in the castle's construction as well as riding in a palanquin, and come to know the sights and sounds of life within the castle and the castle town. Anyone can enjoy themselves as they learn the history of Nagoya Castle and the city it resides in.
The Nagoya Omotenashi Bushotai, a performance group of the famous military figures of Nagoya which served as the model for other such popular groups around Japan, greets visitors at the castle gate every day. They also hold their "omotenashi", or "entertainment" performances on Saturdays, Sundays, and national holidays.
*Opening its entrance and posterior Omote Shoin study to the public in May 2013, the reconstruction of the Hommaru Palace currently continues to move forward. The remaining sections are all set to be completed on June 8, 2018.
10. Information on suspension (closing) of admission to the Nagoya Castle donjons
Nagoya Castle's donjons will be suspending admission to them (closing down) from May 7, 2018 (Mon) due to inspections of and reconstruction to their wooden structures. However, excluding the donjons, admission to Nagoya Castle will continue as normal during the period of suspension.
Period: May 7, 2018 (Mon) to the completion of the donjons' wooden structures
Area: Nagoya Castle donjons (small/large donjon)
Area

Nagoya Castle / Tokugawa

Address

1-1 Hommaru, Naka-ku, Nagoya

Accsess Method

●Just next to the Me~guru Nagoya Sightseeing Route Bus "④ Nagoya Castle" Bus Stop




●5-minute walk from Exit 7 of Shiyakusho Station on the Meijo subway line

Opening Hours

9:00 AM–4:30 PM (Admission to buildings until 4:00 PM)




*Closing time is extended to 5:30 PM until August 31, 2018. (Admission to buildings until 5:00 PM)

Closed

12/29–1/1

Fares

Adults: 500 yen




*Junior high school students and younger: free

Parking

442 spaces available for standard vehicle parking




28 spaces available for bus parking
11. Nagoya City Science Museum
A new building housing "Brother Earth", a 35-meter-diameter dome planetarium, was opened in March 2011. The planetarium is the largest in the world. Also, be sure to check out our four large-scale exhibitions featuring an aurora film shown in a -30°C and a 9 meter tall manmade tornado! These attractions are highly entertaining and allow museum visitors to experience the power of nature. Additionally, the building itself acts as an exhibit through the use of solar power, green walls, visible earthquake-resistant structures and elevator mechanisms.
Area

Fushimi

Address

2-17-1 Sakae, Naka-ku, Nagoya

Accsess Method

Subway Higashiyma-Line/ Tsurumai-Line "Fushimi" sta. Exit 5




Sightseeing Route Bus ME-GURU "Hirokoji-Fushimi" sta.

Opening Hours

9:30AM – 5:00PM (Entrance closes at 4:30PM)

Closed

Mondays (or the following weekday. if Mon. falls on a national holiday), the 3rd Friday (or the 4th Friday, if the 3rd Fri. falls on a national holiday), year-end holidays and New Year Holidays

Fares

Adults: 800 yen (Exhibition & Planetarium), 400 yen (Exhibition only)




High School & College Students: 500 yen (Exhibition & Planetarium), 200 yen (Exhibition only)




Jr. High School Students or younger: Free
12. Port of Nagoya Public Aquarium
In the "A Journey to the Antarctic" theme, the South Building will be introducing the creatures and their natural environments in five areas of the sea in relation to the Antarctic survey ship Fuji's course to Antarctica from Japan. In the North Building will be the theme of "A journey spanning 3.5 billion years: Animals that have returned to the seas", displaying the bottlenose dolphins, beluga whales, and other such creatures kept at the aquarium.
The largest main pool in all of Japan, with stands seating approximately 3,000 people, offers performances to deliver an even deeper understanding of the lives and behavior of sea life.
[Public Transportation] From Nagoya Station:
– Take the Higashiyama subway line to Sakae station, transfer to the Meijo line heading for Kanayama and bound for Nagoyako, and get off at the last stop.
– Take the Meitetsu or JR line to Kanayama station, transfer to the Meiko subway line bound for Nagoyako, and get off at the last stop.
Area

Port of Nagoya

Address

1-3 Minato-machi, Minato-ku, Nagoya

Accsess Method

5-minute walk from Exit 3 of Nagoyako Station on the Meiko subway line from the Meijo subway line toward Kanayama (counterclockwise)

Opening Hours

9:30 AM–5:30 PM (normal hours) / 9:30 AM–5:00 PM (winter season hours) / 9:30 AM–8:00 PM (Golden Week and summer vacation hours)




*Admission allowed until one hour before closing.

Closed

Every Monday (or the following day if a holiday. Open through all of Golden Week, July–September, and spring and winter vacation.)




*Changes may occur.

Fares

Adults: 2,030 yen, Elementary/junior high school students: 1,010 yen, Children (ages 4 and above): 500 yen

Parking

Standard vehicles: 700 parking spaces available, buses: 23 parking spaces available
13. Oasis 21
This park opened in 2002 in Sakae. This is complex multi-level park with the theme of "Space ship Aqua" that is the symbol of the park and abundant throughout.
The "Field of Green" is on the ground level where flowers and trees are planted. The "Galaxy Platform" is basement level where many events are held. Also on the ground level, there are various shops and restaurants, and a connecting to bus terminal on the second level.
Area

Sakae

Address

1-11-1 Higashisakura, Higashi-ku, Nagoya

Accsess Method

Subway Higashiyama/ Meijo-Line "Sakae" sta. Exit 4




Meitetsu "Sakae-Machi" sta.




Sightseeing Route Bus ME-GURU "Nagoya TV Tower" sta.

Opening Hours

Spaceship Aqua 10:00AM – 9:00PM




Shops 10:00AM – 9:00PM




Restaurants 10:00AM – 10:00PM(Business hours vary by shop)

Fares

Free
14. The Tokugawa Art Museum & Tokugawaen
The Tokugawa Art Museum has permanent exhibits of the tools of the Owari Tokugawa feudal lords, such as Japanese swords and armor, tea ceremony utensils, and Noh cos-tumes. Be sure not to miss the limited-time displays of the Tale of Genji picture scrolls (designated a National Treasure), and the hina dolls and Doll Festival furnistings of the Owari Tokugawa clan. The Hosa Library is centered around the Owari Tokugawa clan's former col-lection of books, housing and displaying approximately 110,000 of Japan and China's old masterworks.
Tokugawaen is a Japanese garden with walkways winding around a central pond symbolizing the ocean. The waterfall and steams utilize the differences in elevation to create an enjoyable, dynamic landscape. The park was once a residence of the old samurai manor can still be seen in the black gate at the en-trance. Mid- to late April is the best time to view peonies; June for Japanese iries, and late November for autumn leaves.
Area

Nagoya Castle / Tokugawa

Address

The Tokugawa Art Museum: 1017 Tokugawa-cho, Higashi-ku, Nagoya




Tokugawaen:1001 Tokugawa-cho, Higashi-ku, Nagoya

Accsess Method

NAGOYA sightseeing route bus ME-GURU "Tokugawaen" sta.




10-minute walk from South exit JR "Ozone" Sta.

Opening Hours

The Tokugawa Art Museum: 10:00AM – 5:00PM *Admission until 4:30PM




Tokugawaen: 9:30AM – 5:30PM *Admission until 5:00PM

Closed

The Tokugawa Art Museum: Every Monday (or the following day if a national or substitute holiday falls on a Monday), mid-December to the New Year




Tokugawaen: Every Monday (or the following day if a national or substitute holiday falls on a Monday), Dec. 29th – Jan. 1st (According to the season, the garden will sometimes be open at night or on Mondays.)

Fares

The Tokugawa Art Museum: Adults 1,400 yen, College and Sr. high school students 700 yen, Jr. high and elementary sehool students 500 yen




*Saturdays: Free for all elementary school, Jr. and Sr. high school students




Tokugawaen: High school students and above 300 yen, Jr. high school and younger students: Free
by Nagoya guide