BALI – INDONESIA
This day, I wanted planned to ride west along the coast viewing Agung, Abang and Batur volcanoes to Singaraja town (about 85 km/51mi, slowish ride) to then go inland to go to see the 3 crater lakes in an ancient caldera. By the time, I got to the rim of the caldera. It was already clouding in. It's really ness, to start any explorations early. As it can usually does cloud in haze up by middays most times. I was lucky to be able to see the crater lakes at all. It clouded in as I took.
Pics 1-4: Seeing Agung, then Abang & Batur volcanoes across dry slopes.
Pic 3: The summit cone crater of Agung. Yes, she's smokin. Last erupt in May.
Pic 4: Shows part of the rim of the ancient Batur caldera at right of the cones.
Pic 5: A group of wild monkeys on the rim of the ancient caldera of extinct/collapsed Bedugul volcano (not sure of When last erupt/or collapse).
Pics 6 -9: Danau Buyan
The largest of the 3 crater lakes. I only got to see 2 lakes, as I was limited for time. A long ride to get back home yet. The lakes are at 1240m/4,900 above sea level so I must've been considerably higher on the rim taking pics. It was cool. I had to put on more layers of clothes to stay warm. Was a tad warmer at lake side at Danau Beratan.
As it was, I had little time there. I had to keep movin to still get to my ultimate destination of Batur caldera/Danau Batur, Batur volcano. And, as I missed a turn. Easy to do, I ended up going further se (down towards Denpasar city). Than I'd planned/wanted to. Was ok… as I did find the way eventually. So, I didn't get to see the smallest crater lake of Danau Tambingan. Hopefully, nexttime.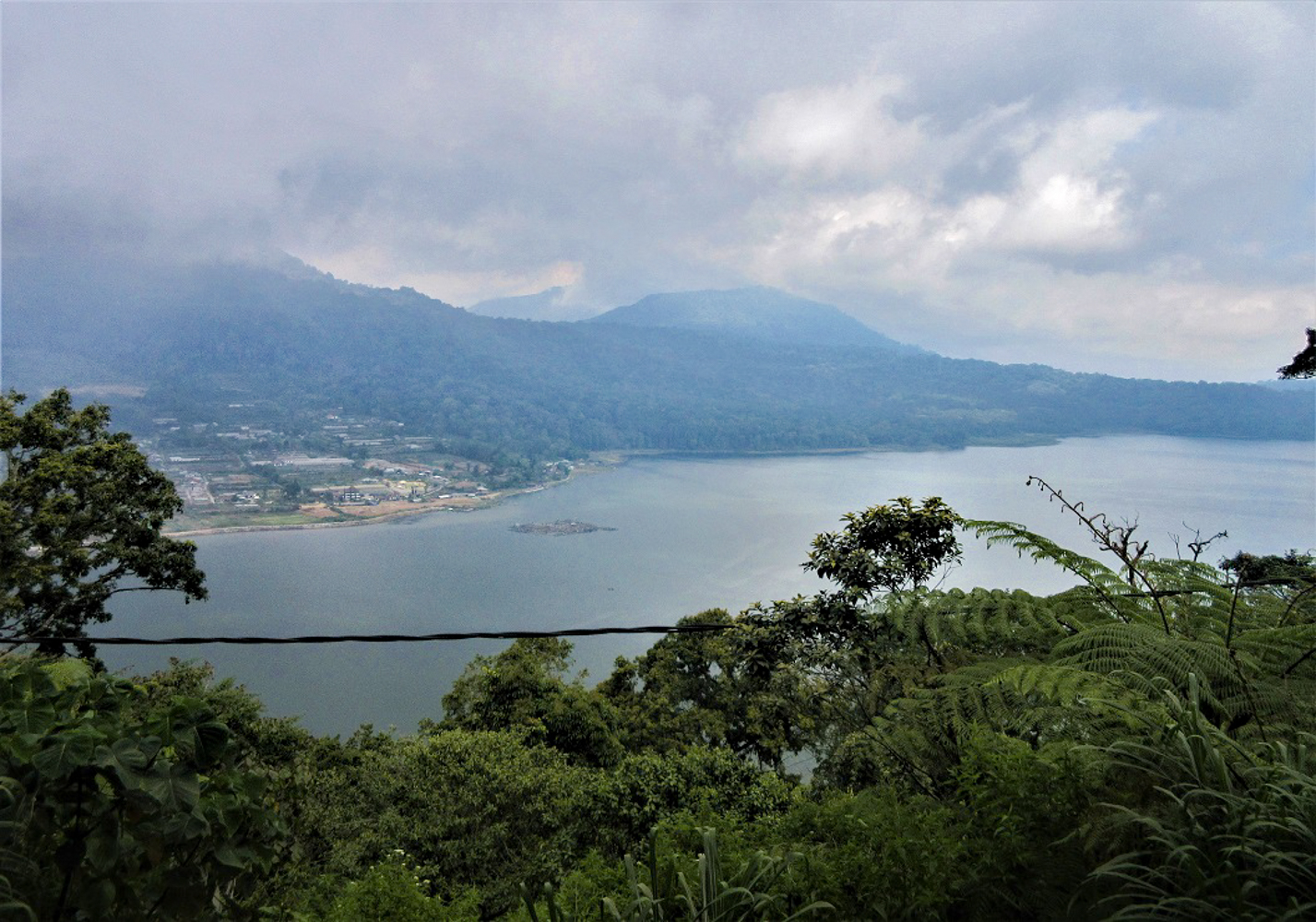 I finally got to the Batur caldera rim. It was Friggin cool up there. I had foolishly not brought Enuf warm clothes w/me even tho I know the rule of exploring volcanoes. You must bring warmth. I had a sweatshirt and more at Amed beach.
Lotta good that did me. I had for going up to Bromo Nat.Pk. 6000'/ 2000m Elev. on Java. Just not thinking wisely. Again, as limited time. I really had to ride stop for ride and stop.
You can see Batur, Abang Agung volcanoes all in a row and Danau Batur crater lake can be seen also. Sadly, I never got close to the lake tho. I'm hoping for a return to Bali. Just to go stay up by Danau Batur and to go exploring. Around the Batur caldera, volcano a swim in the lake by where warm springs enter the lake tho. There's so much to see and explore there yet. Next year…
by Howe