All You Need to Know about Getting to Korea
Visa
Visitors entering the Republic of Korea (ROK) must hold a valid passport and visa to enter the country. Nationals of visa waiver or visa-free countries may enter the country without a visa for tourism purposes only. For any other purposes, such as employment or education, proper visas are required. Nationals of non-visa waiver countries must apply for visas at the nearest Korean embassy or consulate prior to entering the ROK.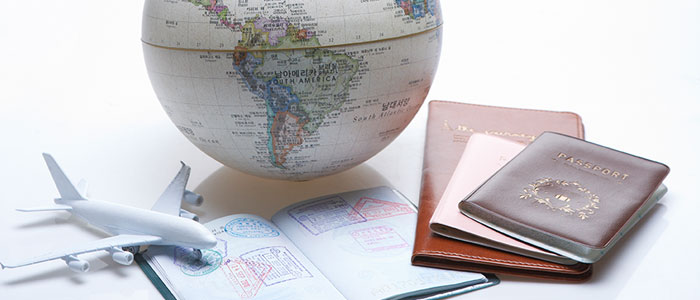 ※ Countries that are granted visa-free entry for general passport holders. Nationals of the following countries are allowed to enter and stay in ROK for up to 30 days of visa-free sojourn for tourism or visitation.
| Continent | Countries |
| --- | --- |
| Asia | Macau (90 days), Brunei, Saudi Arabia, Arab Emirates, Yemen, Oman, Japan (90 days), Qatar, Taiwan, Hong Kong (90 days), Kuwait, Bahrain (90 days) [12 countries] |
| North America | United States (90 days), Canada (6 months) [2 countries] |
| South America | Guyana, Guatemala, Argentina, Ecuador, Uruguay, Paraguay [6 countries] |
| Europe | Monaco, Vatican, Bosnia-Herzegovina, Albania, Cyprus, San Marino, Serbia, Montenegro, Slovenia (90 days), Andorra, Croatia [11 countries] |
| Oceania | Guam, Nauru, New Caledonia, Micronesia, Samoa, Solomon Islands, Kiribati, Fiji, Australia (90 days), Marshall Islands, Palau, Tuvalu, Tonga [13 countries] |
| Africa | South Africa, Seychelles, Mauritius, Swaziland, Egypt [5 Countries] |
※ Countries that are granted visa-free entry for general passport holders. Nationals of the following countries are allowed to enter and stay in ROK for up to 30 days of visa-free sojourn for tourism or visitation.
List of countries under the Visa Waiver Program (as of Feb. 2007)
Immigrations and Customs
Once disembarking from your plane, follow the signs to get to immigrations. Non-resident foreigners must fill out an Arrival card like pictured below.
①Chinese character name
②Family (last) name
③Given name(s)
④Gender
⑤Nationality
⑥Date of Birth
⑦Passport number
⑧Home Address
⑨Occupation
⑩Address in Korea (Name of Hotel, address, etc.)
⑪Purpose of visit
⑫Flight number
⑬Port of Boarding ex. Bangkok, Los Angeles
⑭Your signature
After going through immigrations and baggage claim, you must pass through the customs checkpoint before exiting the terminal. You must present your customs declaration form even if you have nothing to declare. If traveling with family, you may fill out one card for the entire family.
Smart Entry Service (SES)
Instead of going through immigration with a live agent, participants of the SES program can go through immigrations through automatic gates in just 12 seconds.
Find out more at www.ses.go.kr
Tax exemption limit and requirements for declaration
Duty-free items cannot exceed 1 bottle of alcohol (1 liter), 10 cartons of cigarettes, and 60ml of perfume. (You must be at least 19 years of age to purchase alcohol and cigarettes in ROK.) Overall, duties and taxes are not required on goods worth up to a total of US$400. Also, if you are entering the country with more than US$10,000 (or its equivalent in foreign currencies) in cash, this must be declared.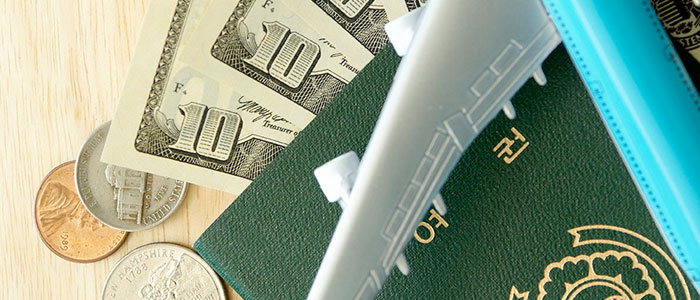 For more information on customs, please refer to the official website of the Korea Customs Service.
Website : http://english.customs.go.kr
For more information related to immigrations, please refer to the official website of the Korea Immigration Service.
Website : http://www.hikorea.go.kr/pt/main_en.pt
Phone : 1345 (without area code)
---
All about Money in Korea
Currency
Korea's currency is the won. Paper money comes in denominations of 1,000; 5,000; 10,000; and 50,000 won bills. Coins come in 1, 5, 10, 100, and 500 won (1 and 5 won coins are not widely circulated).
Korea's Bills:
1,000 won (cheon won)
5,000 won (man won)
10,000 won (man won)
50,000 won (oh man won)
1 won (il won)
10 won (sip won)
※ These are relatively low in circulation.
50 won (oh sib won)
100 won (baek won)
500 won (oh baek won)
Banks
Banks usually offer the best exchange rates to travelers. Banking hours can vary, but most have business hours from 09:00 to 16:00. ATM typically operate until 23:00, but many are open 24 hours a day. ATM can also be found at convenience stores, but often charge higher transaction fees. ATM that accept international cards are common and are marked with a "Global" sign or the logo of the international banks they accept cards from. Most ATM offer foreign language services, including English, Chinese, and Japanese.
Currency Exchange
Most banks offer currency exchange services. Government-certified currency exchange booths also offer exchange outside of regular banking hours, and are usually located in areas frequented by international visitors. Certified booths have a sign with the word "Certified" and currency symbols. Visitors should avoid exchanging money at uncertified booths.
Global Tax Free
In Korea, a 10 percent VAT is added on to the price of many purchases. At stores displaying a "Tax Free" sign, foreigners are eligible for a tax refund on purchases greater than 30,000 won. In order to receive your refund, visitors should do the following:
1. Purchase merchandise of total value greater than 30,000 won at stores displaying the "Tax Free" sign.
2. Show your passport and ask for a refund check when paying.
3. Present your passport, refund check, receipt, and unopened merchandise at airport customs when leaving the country.
4. Receive your cash, check, or credit card refund at the refund counter located near the departure gates.
Tipping
Tipping is not a Korean custom and will not be expected by service personnel. However, many major hotels and upscale restaurants add a 10 percent service charge (in addition to the 10 percent VAT) to the bill. Taxi drivers do not expect tips, but do appreciate if you let them keep the change.
---
How to Stay Connected in Seoul
How to Make Domestic Calls within Korea
To make a domestic phone call within Korea, dial the area code followed by the phone number.
Metropolitan Area Codes:
Seoul (02), Incheon (032), Gwangju (062), Busan (051), Daegu (053), Daejeon (042), Ulsan (052)
Provincial Area Codes:
Gyeonggi-do (031), Gangwon-do (033), Chungcheongbuk-do (043), Chungcheongnam-do (041), Jeollabuk-do (063), Jeollanam-do (061), Gyeongsangbuk-do (054), Gyeongsangnam-do (055), Jeju-do (064)
How to Make International Calls from Korea
Dial any of the following international exit numbers:
001, 002, 005, 008, 00365, 00700, 00770
Next, dial the country code of the country you are calling ( List of country codes )
· Dial the local area code and phone number
Example: To call the United States, begin with any of the international exit numbers listed above, and then dial the country code +1, area code (555), and phone number 123-4567.
001+1+555+123-4567
How to Call Korea from Abroad
When calling Korea from abroad, first dial your country's exit code (if applicable), then + 82 (ROK country code) + area code (omit the 0), and the phone number.
Example: To call Seoul from Australia, dial 0011+82+2-123-4567.
Phone Rental
Mobile phones can be rented from major telecom companies such as LG, SK, and KT in the arrivals lobby at Incheon and Gimpo International Airports. To rent a phone, you will need to provide your passport and a credit card. Your rental phone must be returned to the same counter from which it was rented. Phones are also available for rental at most major hotels. Each carrier charges approximately 3,000 won/day in addition to the 100 won/10 seconds charge for outgoing calls. Incoming calls do not incur any charges for the recipient. Mobile data charges can vary, but are usually around 5,000 won per day. Both 3G and 4G are available in all but the most remote areas of the country.
Once you've rented a phone, please download Visit Seoul's mobile application, i Tour Seoul. This app will put all the essential information you'll need to navigate and enjoy Seoul right at your fingertips.
· Incheon Int'l Airport: 1st floor, Arrivals Lobby (open 24 hours a day)
· Gimpo Int'l Airport: International Terminal, 1st floor, Arrivals Lobby (7:00–23:00)
More information on phone rentals:
Prepaid SIM Cards
Prepaid SIM cards can be purchased online and picked up at Incheon International Airport. It is also possible to purchase prepaid SIM cards at the airport.
Incheon International Airport
Arrivals Hall (1st Floor)
– CU convenience store: By Gate 5 (open 24 hrs.)
– CU convenience store: By Gate 10 (open 24 hrs.)
– CU convenience store: By Gate 13 (open 24 hrs.)
– Bookstore: By Gate 7 (open 08:00 – 20:00)
– Level B1, AREX Airport Rail Service Transportation Center (data SIM only; open : 09:00 – 19:00
Gimpo International Airport
International Terminal
– 3rd Fl, 7-11 convenience store (open 24 hrs.)
Domestic Terminal
– 3rd Fl. past security, 7-11 convenience store (open 24 hrs.)
Prepaid SIM cards are also available for purchase at most convenience stores around Seoul, such as CU, 7-11, and GS25. Though it's possible to purchase a prepaid SIM card outside of the airport, making a purchase at the airport is more convenient and hassle-free.
Payphones
Payphones can be found at the airport, subway stations, and major tourist attractions. In Korea, you'll find phones that accept coins, prepaid cards, and credit cards, as well as phones that only accept coins and phones that only accept cards. To use the phones that accept cards, you must purchase a prepaid phone card from a convenience store (cards come in 3,000; 5,000; and 10,000 won increments), use a T-Money card or credit card, or dial collect.
Coin phones accept 10, 50, and 100 won coins, while phones that take cards accept prepaid cards, T-Money cards, and credit cards. Visitors should be aware that payphones can be difficult to find in some areas, since most Koreans rely on mobile or smartphones.
Using Payphones
If you're using a phone that takes cards, first pick up the receiver and then insert your card. The remaining balance will be displayed. Enter the phone number you wish to dial. To use a T-Money card, hold the card up to the card reader. The phone will make a sound when your card has been read, after which you can dial the number you wish to call. For coin phones, deposit the required amount and then dial the number.
Local calls are 70 won for every 180 seconds. Calls placed to a mobile phone cost 70 won for every 38 seconds.
Internet Access
Internet access is widely available throughout Seoul. Airports, hotels, tourist information centers, public facilities such as subway and railway stations, and many restaurants and cafés have Wi-Fi, LAN Internet access, or both. You can even connect to the Internet on KTX trains. You can also go to an Internet café, called a "PC bang" ("PC room"), which are found in most commercial and residential areas of the city. They cost about 1,000 to 2,000 won an hour.
Wi-Fi
Wireless Internet is widely available in Seoul, which boasts nearly 10,000 free Wi-Fi hot spots. Public service centers and institutions such as transit centers, airports, libraries, hospitals, universities, and even many tourist spots offer free public access. Most hotels, stores, cafés, restaurants, and even taxis offer complimentary Wi-Fi access, although you may have to ask for the password ("bimil beonho") or log in to their system.
Visitors can also pay for access from telecom companies such as KT, SK, and LG by logging in and paying by credit card at hot spots. Prepaid cards are also available for purchase at most convenience stores, and cost approximately 1,000 won per hour or 3,000 won per day.
Visitors who need consistent access to Wi-Fi can also rent portable routers (often called "eggs" or "pocket Wi-Fi") to create hot spots from major telecom providers such as KT and SK at Incheon and Gimpo International Airports. They can be reserved online in advance and picked up directly at the phone rental service desks of the telecom provider. Other rental agencies can be found in major tourist spots such as Seoul Station, Insa-dong, and Myeong-dong. A portable router usually costs between 5,000 and 10,000 won per day to rent.
---
Discover Seoul Pass Benefits
Free admission and discount benefits
With Discover Seoul Pass, you can visit over 30 popular tourist attractions for free during 24, 48, or 72 hours, and receive additional discounts for performances, duty free shops, and more even after the pass has expired.
Various pass types
The 24/48/72 hour passes are available as physical card passes and mobile passes
Transportation card (Tmoney)
Tmoney can be used for buses, the subway, and taxis after topping up
Free one-time, one-way AREX (Airport Railroad Express Train) ticket
Incheon International Airport <-> Seoul Station (9,000 KRW value)
---
The Basics of Korean Etiquette
Culture
Driven by cutting-edge technologies and trends, Seoul is one of the most fast-paced and high-tech cities in the world. As progressive as Koreans are, many still retain traditional and Confucian values. Korean culture and customs are deeply rooted in familyvalues and respect and obedience toward people regarded as having higher status, rank, or age, including parents, teachers, older siblings, senior co-workers. People who are treated as having "seniority" in return have more responsibilities and obligationsto their juniors. In addition to valuing family above anything else, Koreans also place high importance on status and dignity, and every action of an individual is said to reflect back on one's family, company, and country.
Common Korean Etiquette
While most Koreans will understand that foreigners who commit minor social faux pas do not mean disrespect, following basic Korean etiquette can help you make a better impression and have more positive interactions with locals.
-Take your shoes off at the door when entering any residence, temple, or guesthouse.
-A short bow—essentially a nod—is the most respectful greeting.
-Give and receive any object using both hands.
-Tipping is not a Korean custom and is not expected at hotels, taxis, or other establishments. Refusal to accept a tip is not an act of disrespect.
Dining Etiquette
Don't start your meal until the eldest at the table starts first.
Don't touch food with your fingers—except when wrapping ssam.
Don't leave your chopsticks or spoon sticking up from your bowl of rice.
Use a spoon to eat rice.
Place chopsticks and spoon back in their original position at the end of the meal.
Basic Korean Phrases
Hello. 안녕하세요. an·nyeong·ha·se·yo
Thank you. 감사합니다. gam·sa·hab·ni·da
I'm Sorry. 죄송합니다. choé·song·hab·ni·da
Excuse me. 실례합니다. shil·le·hab·ni·da
Yes./No. 네./아니요. ne/ a·ni·yo
How much is it? 얼마예요? ol·ma·ye·yo
It's okay. 괜찮아요. gwaen·chan·ah·yo
I don't know. 몰라요. mol·la·yo
I'm lost. 길 잃었어요. gil·yi·russ·o·yo
My name is _____. 제 이름은 _____입니다. che yi·reun·eun _____im·ni·da
---
Everything Else You Need to Know
Alcohol
The legal drinking age in Korea is 19 years of age. Although it is legal to drink alcohol in public, disorderly conduct under the influence of alcohol can result in hefty fines and a visit to the police station.
Business Hours
Banks and Public Institutions: 9:00 a.m.–4:00 p.m.
Tourist Information Centers: 9:30 a.m.–10:00 p.m. (varies by location)
Restaurants/Cafés: 10:00 a.m.–12:00 a.m. (many open 24 hours)
Transportation :
Subway: 5:00 a.m.–1:00 a.m. (weekdays) / 5:00 a.m.–12:00 a.m. (weekends and holidays)
Bus: 5:00 a.m.–10:00 p.m. (select routes operate until 1:00 a.m.)
Taxi: 24 hours (20% late-night surcharge from 12:00 a.m.–4:00 a.m.)
Dongdaemun Shopping Centers: 10:00 a.m.–5:00 a.m. (the following day)
Dasan Call Center (Tel. 120): 24 hours
Electricity
The standard voltage in Korea is 220 V and the standard frequency is 60 Hz. The types of sockets or outlets used are the C and F types, which have two round holes and are the same types used in Germany, France, Austria, Greece, Turkey, Spain, Pakistan, and many other countries.
Public Lockers
Public lockers can be found at most subway stations and bus terminals. Newer lockers can be paid for with a credit card or a transit card, but older ones will only takes coins and bills. Most of the subway stations and terminal hubs are equipped with new lockers. Small lockers are KRW 1,500–2,000 for the first 4 hours; medium lockers are KRW 2,500–3,000 for the first 4 hours.
Religion
The predominant religions in Korea are traditional Buddhism and Christianity. In a 2010 survey, 31.6% of respondents identified as Christian (24% Protestant, 7.6% Roman Catholic), 24.2% as Buddhist, 0.9% with other religions, and 43.3% reported no affiliation.
Smoking
Smoking is not permitted at bus stops, city plazas, and many other outdoor public locations. If caught smoking in these areas, you may be fined up to KRW 100,000. Non-smoking areas are clearly marked with signs. Smoking is also not permitted inside restaurants, bars, and cafés with an area larger than 150 square meters. Designated smoking areas can also be found around the city and at major transportation hubs. Cigarettes can be purchased at just about every convenience store. The legal smoking age in Korea is 19 years of age.
Time
The Republic of Korea is on the Korea Time Zone (UTC+9:00) and does not observe daylight saving time.
Toilets
Seoul has plenty of clean and modern public toilets, most free of charge. Asian-style squat toilets can still be found, but the vast majority of toilets in Seoul are Western-style ones.
Water
Korean tap water is safe to use for hygiene purposes such as brushing your teeth and washing your face and is safe to drink as well. Water coolers are installed in just about every home, office building, hotel, hospital, and restaurant, so finding safe purified water isn't difficult. Bottled water is also very easy to come by and can be found at any convenience store or market. There are a number of mineral water brands available in Korea, all of which are safe for consumption. The cost of a 500 ml bottle of water will be anywhere from KRW 500–1,500.
Weights & Measurements
The Republic of Korea uses the metric system. Temperature is measured in Celsius, weight is measured in grams, and length is measured in meters.
Tax Refund 소개
This is a system where foreign tourists can receive a refund of domestic tax (such as VAT) from purchased goods at tax free stores within 3 months of departure from Korea. After receiving export confirmation from customs, tax refund can be immediately received at the Tax Refund Counter.(Domestic tax refund is eligible for purchases over 30,000 won)
Tax Refund Service
Domestic tax free refund services are provided by agencies and each company operates a tax refund counter, installation of self-service KIOSK, mailboxes etc.

Those eligible for a Tax Refund
Minimum purchase of 30,000 won, purchased within 3 months of departure
Foreign tourists : who have stayed in Korea for less than 6 months
Overseas Korean: who have stayed in Korea for less than 3 months, and have lived overseas for over 2 years.
Tourist Information Center Services
Assist foreign and domestic tourists
Offer on-site assistance for visitors in need of reservations for performances, transit, accommodation, restaurants, etc.
Distribute guidebooks, maps, and pamphlets
Give information on Seoul City Bus tours, Seoul City Walking Tours and other tour options
by Korea guide